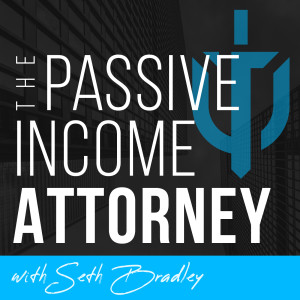 Thursday May 27, 2021
EP 40 | How to Use Blockchain Technology to Stay on the Cutting Edge of Real Estate Investing with Michael Flight
On this episode of the Passive Income Attorney podcast, Seth is joined by proptech real expert Michael Flight as they discuss how you can utilize blockchain technology to take your real estate investing to the next level. Michael is an expert in real estate tokenization, real estate on the blockchain, retail real estate and more, and he gives you a guide from the basics of blockchain technology to cutting-edge tokenized funds.
"Blockchain technology is going to change the future of finance. . .My years of experience in real estate says that this is going to open up an entirely new frontier."
HIGHLIGHTS:
Here's a breakdown of what to expect in this episode:
Your limited landlord responsibilities with a single tenant net lease
The difference between a fund versus a typical single property syndication
Learn the basics of blockchain technology  
Uses of blockchain technology in real estate investing
Current and potential advantages of blockchain technology for investing
What is net-leased single tenant retail real estate
What is the Liberty Real Estate Fund and how is it trailblazing the real estate investing landscape
And so much more!
ABOUT | MICHAEL FLIGHT:
Michael Flight is a founding principal of Concordia Realty Corporation, Concordia Equity Partners LLC, and more recently Liberty Real Estate Fund, a net leased property fund curated to create a conservative, safe haven portfolio of long term, single-tenant net-leased properties designed for geographic diversification, tenant credit diversification and industry diversification.
Michael is a real estate entrepreneur who is an expert in retail real estate (shopping Centers and single-tenant net-Leased) investment, leasing, operations, and redevelopment. Michael has been active in commercial real estate over the past 34 years and has handled more than $600 million worth of real estate transactions. Michael has extensive experience in development, leasing, sales, property management, and innovative financing techniques, including Security Token Offerings (STO).
FIND | MICHAEL FLIGHT:
Website: https://libertyfund.io/
LinkedIn: https://www.linkedin.com/in/michael-flight/
CONNECT | SETH BRADLEY:
Snag | The Freedom Blueprint: http://www.attorneybydesign.com
Subscribe and Leave a Rating and Review:
Apple: https://podcasts.apple.com/us/podcast/the-passive-income-attorney-podcast/id1543049208
Spotify: https://open.spotify.com/show/5a0Qp9G2x337nZCDWoVgoO?si=MKn01_t8Tfu0JBZCnagrCw
Join EPIC | The Esquire Passive Investor Club: https://passiveincomeattorney.com/join-the-passive-income/
Join | The Passive Income Attorneys Facebook Group: https://www.facebook.com/groups/passiveincomeattorneys
Follow Us:
Website:  https://passiveincomeattorney.com/
LinkedIn: https://www.linkedin.com/in/sethpaulbradley/
Facebook: https://www.facebook.com/passiveincomeattorney