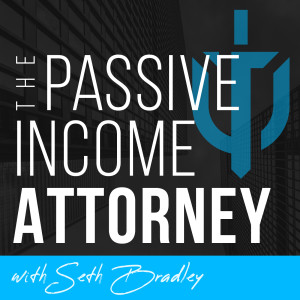 Thursday Jun 03, 2021
EP 41 | How to Achieve Financial Freedom by Becoming an Empowered Investor with Mo Bina
On this episode of the Passive Income Attorney podcast, Seth is joined by financial expert and author Mo Bina as they discuss how learning and networking will give you the confidence that you need to step off the Wall Street rollercoaster and stroll over to Main Street where the grass really is greener. Mo is an experienced investor in alternative assets, private money-lending, and various real estate sectors, and he shares how education can help you invest in a stable, prosperous future for you and your family. Enjoy!
"It's important that people invest prudently and take a more empowered position with what they do."
HIGHLIGHTS:
Here's a breakdown of what to expect in this episode:
How to obtain control over your investment portfolio by investing in with alternative assets.
The pros and cons of investing passively and actively.
Diving into The Empowered Investor Methodology, a powerful roadmap for getting started in alternative asset investing.
Specific things to look out for within the market, the deal, and the sponsors.
Calculating risk-adjusted returns.
And so much more!
ABOUT | MO BINA:
Mo Bina is the Managing Principal and Founder of High-Rise Capital, a boutique commercial real estate investment company.
He partners with high-income and high-net-worth individuals and family offices to obtain above-average returns with reduced volatility and tax efficiency from high-quality investments. He is the author of More Doors, More Profits; A New Lease on Life: How to Build Wealth and Improve Lives by Investing in Senior Housing; and Industrial-Grade Investments: An Empowered Investor's Guide to Building Wealth with Industrial Real Estate. Through strong collaboration, his clients are able to ultimately achieve meaningful investment returns as they generate multiple income streams to live the life they desire and participate in investments that enhance lives and provide tangible societal benefits. He has strategic partnerships with best-in-class operators and developers who have decades of experience in the commercial real estate space. He is a regular guest on real estate and investing-focused podcast shows.
He has also developed The Empowered Investor Methodology, a revolutionary way of helping people obtain financial security and transform their lives through alternative real estate investments. This methodology consists of a five-step process—Ethos, Educate, Evaluate, Execute, and Empower—that works as a roadmap for new and seasoned investors alike, helping them break down self-imposed barriers, build momentum, and find the keys to succeed. For more information, click here.
He is an experienced investor in alternative assets, private money lending, and various real estate sectors such as residential, multifamily, senior living, office, and industrial real estate.
FIND | MO BINA:
Website: https://www.high-risecapital.com/
LinkedIn: https://www.linkedin.com/in/mohrc/
CONNECT | SETH BRADLEY:
Snag | The Freedom Blueprint: http://www.attorneybydesign.com
Subscribe and Leave a Rating and Review:
Apple: https://podcasts.apple.com/us/podcast/the-passive-income-attorney-podcast/id1543049208
Spotify: https://open.spotify.com/show/5a0Qp9G2x337nZCDWoVgoO?si=MKn01_t8Tfu0JBZCnagrCw
Join EPIC | The Esquire Passive Investor Club: https://passiveincomeattorney.com/join-the-passive-income/
Join | The Passive Income Attorneys Facebook Group: https://www.facebook.com/groups/passiveincomeattorneys
Follow Us:
Website:  https://passiveincomeattorney.com/
LinkedIn: https://www.linkedin.com/in/sethpaulbradley/
Facebook: https://www.facebook.com/passiveincomeattorney